CHILDHOOD AND EARLY MUSIC TRAINING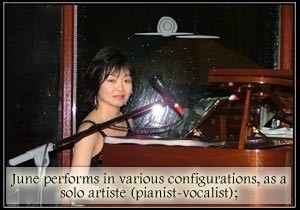 June comes from a strong music pedigree in Penang, Malaysia. Her father, Robert Tan, was a renowned musician who led a popular piano trio that played in well-appointed hotels and resorts on the island. One of June's earliest memories was of playing and running around the house while her father's band was having rehearsals. It was no wonder then that she started singing along with songs on the radio at the age of 4.
She began classical piano lessons when she was 8 and started performing gigs while she was still in school. After finishing school, June accepted an offer to teach music in Kota Kinabalu, Sabah where she worked for several years. During this period, she took leave to go to Singapore where she prepared for and passed the examination to obtain the Teaching Certificate awarded by the Yamaha Music Foundation.
A LEGAL CAREER I
NTERLUDE
Exploring outside the music world in an effort to broaden her life experiences, June began studying law while playing piano full-time at the Kuala Lumpur Hilton. She graduated with honours in law from the University of London and then went to London, U.K. where she sat for and passed the Bar Examination and became a Barrister (July 1994, Lincoln's Inn). She practised law for over 6 years and is married to Lee, a law lecturer.
FULL TIME MUSIC CAREER

June has gone back to her first love – music, full time and her music repertoire has evolved to include jazz which she has developed over the years and in which she received training in the U.S. Her teachers include Andy LaVerne (New York), Matt Harris (Los Angeles), Frank Collett (Los Angeles) and Dave Packer (France) and jazz vocal teacher, Andrea Wolper (New York). Besides performing, she also coaches budding musicians in contemporary music.
In recent years, she co-founded the JVH Trio with Hanafie Imam (bass) and Vincent Chin (saxophone/conga) which performs by invitation at special events. A prestigious engagement was being the featured entertainment at the IBM-organised ASEAN ISV SUMMIT held at the Mandarin Oriental Hotel, Chiang Mai, Thailand.
In April 2007, June and Hanafie were invited to give a one-night jazz concert in Bandar Seri Begawan, Brunei by theBrunei Music Society. Later that year in August, June's band, the Jazzelton Quartet, had the distinction of being the only local band that was featured in the 1st KK Jazz Festival held in Kota Kinabalu, Sabah, Malaysia.
One memorable gig was aboard the Serenade of the Seas from the Royal Caribbean International fleet, where she was the pianist-vocalist at the Schooner Bar. She thoroughly enjoyed two 6-month gigs in Japan; the first one was at the Grand XIV Naruto Golf & Spa Resort, Tokushima and the second one was XIV Tateshina Hotel Resort & Spa, Chino, Nagano.